Sunday, 21 February 2010 14:56
Ingredients:
2 cups warm water
2 packages active dry yeast
3 tablespoons sugar
1 tablespoon salt
about 5 3/4 cups all-purpose flour, unsifted
3 quarts water with 1 tablespoon of sugar
1 egg yolk beaten with 1 tablespoon water
about 2 tablespoons poppy, sesame seeds, or onion flakes
Instructions:
Stir together water and yeast in large bowl of stand mixer; let stand 5 minutes to soften yeast.
Stir in the Sugar and Salt.  Gradually mix in 4 cups of the flour and mix with the dough hook for 1-2 minutes. Add about 1 1/4 cups more flour to make a stiff dough. Mix with dough hook until smooth, elastic, and no longer sticky, (5 -7 minutes); add more flour as needed to prevent sticking - dough should be firmer than for most other yeast breads.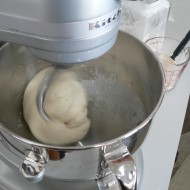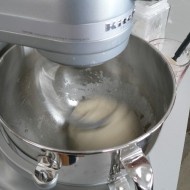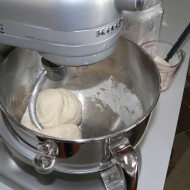 Place in a greased bowl, cover, and let rise in a warm place until almost doubled (about 40 minutes to 1 hour).
Punch dough down and divide in half. Set half of the dough aside on a floured board; cover with clear plastic. Cut remaining half of the  dough into 8 equal pieces.
To shape, knead each piece into small ball and poke thumbs through center. With one thumb in hole (hole should be at least 1/2 inch) work fingers around perimeter, shaping ball into a donut like shape. Place bagels on a floured board or tray and let stand 20 minutes.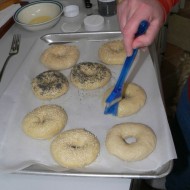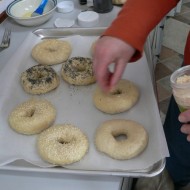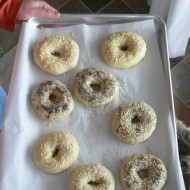 Bring water-sugar mixture to a boil in a 4 to 5 quart pan; adjust heat to keep it boiling gently. Lift bagels carefully and drop into water (a few at a time).
Boil gently for 1 minute turning only once (30 seconds each side). Lift out with slotted spoon and drain very briefly on paper towels, and place on parchment lined baking sheet. Brush with 1/3 of the egg yolk glaze, sprinkle with seeds, or onion and bake in a 400° oven for 15 minutes or until richly browned. cool on racks.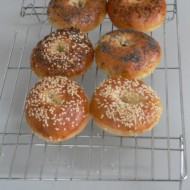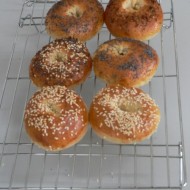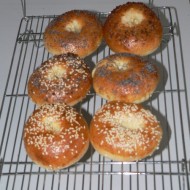 Repeat with remaining dough (you may need to punch it down before shaping).  Makes 16 bagels.