Saturday, 23 May 2009 02:46
Ingredients:
2 ½ cups all-purpose flour
¾ cup granulated sugar
1 tablespoon baking powder
¾ teaspoon salt
6 tablespoons butter
1 cup chopped walnuts
3 small very ripe bananas
⅓ cup milk
2 eggs
1 teaspoon vanilla
Topping Ingredients:

¼ cup flour
2 Tbs cup butter
¼ cup brown sugar
1 tsp cinnamon
½ cup chopped walnuts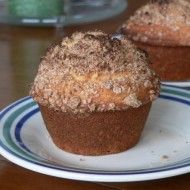 Instructions:
Sift together flour, baking powder and salt. set aside.

Cream together butter and sugar. beat in eggs, one at a time.

Add the milk, and stir in bananas.

Add dry ingredients all at once, stirring just enough to moisten. gently stir in nuts.

Spoon into muffin tin, filling 2/3 full. bake in 350 oven for 15-18 minutes or until golden.